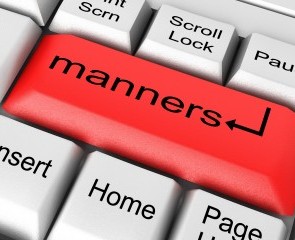 We've all had the social media friend or Facebook Page that has made us want to turn them off, right? You know the one where every post is about what they are trying to sell you. "BUY FROM ME, BUY FROM ME, BUY FROM ME!" If that is you, knock-it-off!
Social media is about being social. You wouldn't sit down to a meal with someone and immediately ask them to buy from you, would you? The answer better be no!  We need to remember that when we are on social media sites, we are engaging in conversation. It is about building the know, like and trust so eventually the person may buy from you or at least be a good referral source.
In my training class this week I am sharing 12 tips on social media etiquette. I could probably make the list 3 times larger, but since it's a busy month I will keep it short.
12 Tips on Social Media Etiquette:
1. Use your real name. People like to engage with real people.
2. Use a current headshot of YOU (not your child, husband, dog, niece, etc.).  As author & blogger Chris Brogan says in his 2011 blog: An Insider's Guide to Social Media Etiquette, "It feels creepy friending a four year old kid (avatar)."
Also, on another note about having a picture: I don't follow anyone that doesn't have a picture. I don't trust that the person is real &/or question if it is a spammer/phisher trying to gain access to me, my computer and my network. Remember, people like to connect with people, so put a good quality headshot of you on your profile.
3. Set your privacy settings to control who can tag you. Facebook offers the opportunity for you to review any post that you are tagged in before it appearing on your timeline.
4. You are not obligated to friend or connect with anyone. In fact, it is a great idea to use some discernment here. If you keep your personal and professional life separate, send a message to the person asking for the connection and tell them that you prefer to connect with clients in a different way on LinkedIn and/or your Facebook Page.
5. When asking to make a connection, don't use the default settings (for instance on LinkedIn). Include a personal note with the request that may include where you met the person, who you are, and why you wish to connect with them.
6. Be authentic.
7. Listen first and then join the conversation. Be sure you are always adding value.
8. Never spam. Ever.
9. Don't repeat the same post on ever network within a 10-minute span. Change it up a bit and spread it out.
10.  Instead of selling, why not share with your followers why they should buy from you; what other followers got from buying from you; or some other relational fact.
11. Promote others.
12. Modesty is a beautiful thing. Don't retweet and share every nice thing someone says about you and/or your company. Thank the person for the testimonial and leave it at that.
Your CANnon Do® for this week is to find a way to unselfishly promote someone else.
What other social media etiquette tips do you have?