What if I told you that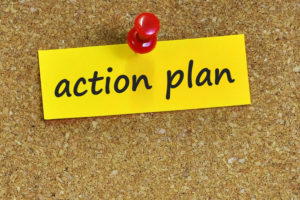 you don't need to be on social media 24/7 for it to work for your business? It's true! In fact, with a social media action plan, you can have impact in as little as a few hours each week.
Keep reading…it IS possible!
When entrepreneurs and small business owners are frustrated and/or overwhelmed by social media, many times it is because they haven't created a social media action plan. They think that posting something every day or once a week or whenever they have time is a plan.
I am here to tell you, that is NOT a plan. That is a wish and a prayer that someone will connect with you.
plan = focus
Focus provides you the direction so you aren't wasting a bunch of time.
Let's talk about what goes into a social media action plan. In a previous blog, I talked about social media mindset. In a nutshell, who is your audience and what matters to them? You can read the blog post here. Once you have answered these questions, you can move onto the ones that go into a social media action plan. Here are a few:
Which social media platforms do my peeps (ideal client) use?
What content is relevant to my audience?
When should I post this content?
How often should I post on each platform?
Each of these questions is really an entire blog, but I will give you at least some direction to get you started.
It has been my experience that too many times business owners think they need to be on every platform. This tends to overwhelm them and then they don't actually end up "doing" any social media. My philosophy is that you should choose one or two social media platforms that are best for connecting with your ideal client, do them really, really well and then see if you want to add another platform. When it comes to which platforms, I found this blog and infographic from Social Media Today very helpful. As you study it, you should be able to identify where your ideal client likes to hang out on line.
When I work with my coaching clients on creating their social media action plan, one of the exercises involves deciding what kind of content you could post for each day.
This is a simplified version, but for example:
Monday could be the day you share a #MotivationMonday post
Tuesday can be your blog
Wednesday…
Each client is a bit different and we brainstorm over the kind of content that works for them and their audience. Keep in mind that you always want to be adding value. (Value can be encouragement, laughter, tips, education…)
Frequency of posting and the best time to post really depend on you and your audience. In order to stay current with most of the social media algorithms, a daily post is typically the minimum. The time of day depends on when your audience is most likely to be online. To start, try early morning or after 6pm during the week and then adjust from there.
If you just started to panic because you don't think you can post every day… TIME OUT! Take a pause and breathe.
I am all about making things simpler for you. If you haven't been posting consistently now, look at posting three times per week. Then work up to four times per week, etc. It's not an all-or-nothing deal. Stop running around like a crazy person or being overwhelmed by social media; create a social media action plan that works for you and your business.
Vicki's Social Media Action Plan Process:
Each week I set aside time to plan what I am going to post on each day and to each platform.
I then schedule my posts.
Each day, I check-in to my platforms and engage with the people that make comments etc. and then I go about my day. (This can be a 5 to 10 minute deal a few times a day.)
If I find something relevant that I want to post immediately, I then add it to my mix.
You may find it easier to schedule your posts the night before or for several days in a row instead of a week in advance. It doesn't matter how you do it, it just matters that you do it. The biggest part is setting aside time each week to plan out your content.
Here is something to think about. You fuel your body everyday with food and water. You need to fuel your business with marketing. You must take the time (schedule it every week as an appointment you cannot miss) and then use your social media action plan to create and schedule your posts.
In social media, consistency wins. Get consistent with your updating. As mentioned before, if everyday seems daunting, start with three times per week and then work your way up to daily. Once you are consistent and things are working for you, decide if you want/need more content or another platform to share with your ideal client. By putting a social media action plan into place, you will find that keeping your social media platforms current and connecting with your ideal client isn't that difficult.
Hey – before I sign-off, I have a gift for you. Here is a training that may help you with your time management. I have a recorded webinar that you can watch for FREE (it's a $47 value). All you need to do is sign-up with this link: Time Management and Social Media Webinar.
Until next time…
PS: We went from social media mindset last week to social media action plan this week. The first step in my coaching program, Social Media MAP – Mindset and Action Plan™ is Clarify. If you would like to delve much deeper into creating a personalized social media plan that will work for you, contact me for more information & availability.