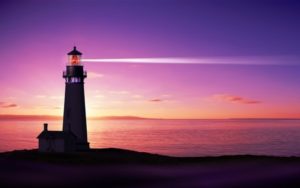 Ultimately, your goal is to build and nurture a marketplace. Connect a prospective buyer to whatever you (or your client) sells. You might use Facebook or LinkedIn or Pinterest or Twitter or whatever, but that's always less important than the first sentence. Build and nurture a marketplace. So why do it?
Be the Lighthouse
On the table in front of me is a small catalog from 5.11 Tactical, where I purchased a pair of shoes based on a review I read online. Everything about the site talks about military and law enforcement type stuff. Their Twitter profile shares cool stories that would appeal to the folks who like that sort of thing.
That's the goal of using social media tools: find the people who like what you have to offer, and speak to them. Nurture them. Connect with them.
My Favorite Tools (Because You Have to Use Something)
I use three or four tools above all else. They're not the newest (by far). But they're how I weave a good storytelling system to connect and nurture the marketplace that I serve.
Blog – I've said it multiple times. No matter what, I'd start with a blog as a primary website. You might design it to have a "main website" kind of front page, but use blogging software to build it. 30% of all US sites are built on WordPress (I think the number is 26% worldwide).
Email Newsletter – this is my golden child. 78% of my revenue comes from email. There's no better tool for nurturing a strong back and forth with people.
Podcast – either a podcast or video. I'd recommend either one. Why? Because you can reach people who are on the move. Especially if you're going to try and connect with people like busy moms or fitness people or commuters, this is a real winner.
Beyond this, nearly any platform will serve as a good one to promote your primary channels. I use a mix of Twitter, Facebook, and LinkedIn, but only because they're where I have some presence already. I don't really care which you want to choose. The details only matter if you KNOW that someone's going to prefer a specific platform to another.
Connect
Use every one of your tools to connect and share the story around what it is you sell. Help others. Give them more than just a sales pitch. Connect them to others who also share in mutual interests. Build up your information so that it shows people a way forward.
This is how I use the tools. I'm not "into" social media. I'm into helping people succeed. Never stay married to a tool, only to a strategy.