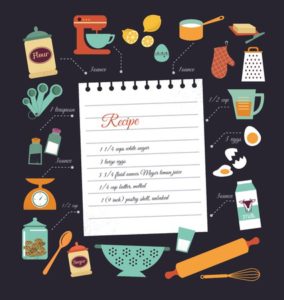 What is your social media recipe for posting? We all have one. Have you given yours any thought?
Let's have a little fun.
Below is a list of different online persona's. Go through the list and see if you can identify the people that you follow on social media.
Who do you know on social media that is:
Professional Sports Fan (Football, Basketball, Baseball, etc.)
College Sports Fan
Traveler
New parent or expecting
Grandma or Grandpa or soon to be
Meme lover
Dog person
Cat person
Parent
Parent of teen girl(s) or teen boy(s)
Loyal to their alma mater
Parent of a kid that plays a sport
Parent of kid that dances
Angry all the time
Complainer
Ranter
Spammer (always selling their product or service)
Political Left or Right – will fight to the death
Encourager
Up-lifter
Foodie
Drinker
Partier
Gardener
Book lover
Artist
Crafter
Renovator
Hippie
Health nut
Movie watcher
Information provider
Mom of the bride or groom
Over-sharer
How many were you able to identify? Did I miss anyone?
Ok, now go back and determine who people think YOU are online. Go ahead, I can wait…
Welcome back. What did you learn?
What you post online personally and professionally gives an impression. You may not think about what you are posting, but if you can identify others' by the list above, you can probably be identified as well. It may be that you or the people you follow fall into more than one category.
Recently, I did this exercise in a group that I lead. At the end of the exercise, I could see the light bulbs going off and then someone said "I better relook at what I've been posting!". Yes, you do need to pay attention to it!
This brings me to my original question, what is your social media recipe for posting? I think that many people bring a variety of different aspects of their personality to social media. We typically throw in a little bit of this and a pinch of that. Maybe though, we need to take a closer look at the ingredients and what we are making. You don't want to be labeled as the spammer or someone that is constantly negative. This hurts your personal brand. What we see online is what we expect in-person. People are constantly observing what we do and we invite them to get a view every time we post.
My social media recipe for business is: encouragement, inspiration and humor, plus social media tips and information. For personal I have a more complicated recipe that includes my business ingredients plus family, gardening, food and sports.
When choosing your social media recipe…
Start with your goals for social media.
Add who you are talking to.
Mix in your expertise.
Fold in topics and information your audience can relate to and are interested in.
Be mindful that ingredients may need to be substituted from time to time with something fresh.
Check the temperature to be sure that your dish is not overcooked.
What is your recipe? What does it include? Please share in the comments or on Facebook or Twitter.