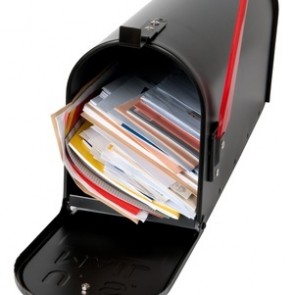 One of my biggest pet peeves is being added without permission to an email list. Just the other day it happened again. I was at a networking event, someone asked for my card and then next thing you know, I am receiving their newsletter. Why do people think it is ok to add me to their list without my permission?!?! Have businesses become so desperate that they add everyone they know to their list? In my book, this is spamming. Who's with me?
This tactic has got to stop. It's like buying likes for a Facebook Page or followers for Twitter; how effective is it if the person isn't the ideal audience? Yes, it gives you "numbers", but numbers don't mean anything if the audience isn't right. You aren't likely to sell very much to someone that hasn't identified that your product/service is right for them. Rather than annoying and interrupting perspective customers with unsolicited and pushy messages, ask for permission first. I think this is the most important rule of proper marketing etiquette.  Besides, why would someone who is looking to build a successful business want a bunch of people on a list that may not be interested?
I have to admit, it lowers my opinion of the business/person a bit when I am automatically added to a list. It seems lazy to me. If your hope is that the person you add to your list is going to be so enamored by what you have to say in your email marketing, that they are going to purchase from you or turn into your ambassador, what would it hurt for you to ask permission? This way you know that they are interested. Otherwise, now you could need to earn back trust which is harder to do.
My email address is currency and must be earned. I will give you my email address (currency) and in turn, I expect to receive something of value (it can be a great blog full of information, a discount, white paper, download, etc.), but I am not going to fill my in-box with a bunch of noise about things I am not interested in.
I have a little secret…I don't use my business email for anything other than correspondence for business. I know immediately if someone just added me to their list. Sneaky, huh?!? You may be me curious as to why I don't use this email for newsletters and ads? The first or foremost reason is that it helps me to concentrate on what is important. In my mind, having lots of other info coming into my main inbox is like clutter. It can be very distracting. In fact, too much email can be stressful, unproductive, overwhelming and can cause you to miss important things because there is too much to wade through.
Secondly, it does help me to be aware of what lists I have been added to without my permission. This also helps to remove unwanted clutter. How many of you have opened your email and wondered how you got onto so many lists? Even the lists I thought I wanted to be on at one time can become overwhelming. Then I know it is necessary to clean house there too.
My friend, Robyn of Robyn Stevens Feng Shui would agree. Here is what she has to share with you:
"Clutter, all forms of clutter, is so debilitating. Depending on what and where; it can clog the flow of abundance; keep 'Ms/Mr Right' from coming into your life, hold you back career-wise, etc., etc., etc.!  Clutter is not just limited to physical stuff; your computer content is absolutely part of the equation.  In most cases, our computer/emails are directly related to our careers.  When that area of our life is full of clutter life itself can feel like an uphill battle.  You probably feel like you are in a rut and aren't happy with what you are doing.  Step 1?  Clear that email clutter and keep it cleared.  Clarity of computer will give you clarity of mind and will help lead you in the right direction career-wise!"
My advice, don't add me to any email lists without my permission! Ha! And, the CANnon Do for today's message is: set-up a separate email address for all of your purchasing and newsletters, but only keep the things that are important to you. It will help to clear your mind and make your life more productive and abundant.
Ok, I am stepping off my soapbox for now. Until next time, remember to Spread Kindness.