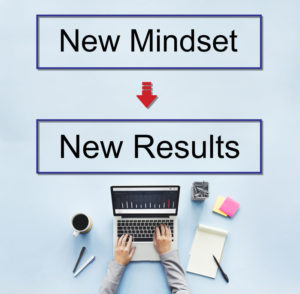 What is your social media mindset? If you Google "mindset"  you receive this definition – "the established set of attitudes held by someone". So, what is your mindset when it comes to social media?
For many, their social media mindset is, "I've got to do this because everyone else is" or "I have to be on Twitter (or Shapchat or Instagram, etc.) because my friend's- second-cousin's-boyfriend has thousands of people following them".
Maybe your social media mindset is about ignoring social media. You hate it on a personal level, it seems like a big time-suck, you don't want to learn it and no one is going to make you. Besides, eventually it won't be relevant anymore and everyone will go back to do things the old-fashioned way.
There are so many different ways that we think about social media, but one thing I see with my clients, self-employed professionals and small business owners, social media is mainly misunderstood. When it's not understood from the start, how can you have a healthy social media mindset?
Social media is first and foremost about being social. If you are attacking social media as solely an advertising platform to get your message out over and over again, then you are missing the beauty of this connective tool.
Here are some of the social media mindset questions you need to be asking:
Who are your peeps? (Or if peeps is too girly for you, who is your ideal client?)
What do they like to learn about?
What interests them?
What makes them tick?
What makes them laugh?
What encourages them?
How can you be of service to them?
What are their biggest worries?
What can you do to make their life or business easier and/or better?
How do you not add to the noise of social media, but provide something of value?
What trips-them-up in their day-to-day life?
What will make them want to have a conversation, like and/or share your content or recommend you to everyone else?
These are just some of the new social media mindset questions you should be considering.
You see, you need to make it about THEM. When you understand your audience and learn to serve them, social media becomes so much easier and has a much bigger purpose. Yes, I know you have a widget or service you are providing, but until you understand your audience, learn to talk with them and earn their trust, what you have to sell is of little relevance.
This is very simplified for a much deeper conversation I typically have with my coaching clients but, starting down the path of understanding your ideal audience and what their needs are, will give you more success in all of your marketing. You can then amplify your message on social media and make the use of your time more successful.
New Mindset =  New Results
What is YOUR social media mindset? Has it changed (even a bit) since you read this article? I welcome your insights and thoughts.
Until next time….
Hey, friend! I have a FREE download for improving your LinkedIn Profile. You can grab it here. If you accept the link to go into my newsletter, I promise to not spam you! I have some exciting things to share and hope you will be part of my community. You may also follow me on Facebook or Twitter. Stop by and say "hello"!