Coffee and a Post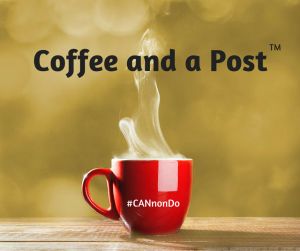 When I poll a group of entrepreneurs or small business owners about what their biggest challenge is for social media, I hear time and time again, "it takes so much time." I can already tell you are nodding "yes," with that answer as well. I get it! Social media does seem to be one of those time-traps.
Last weekend I was discussing with my husband, Gus, the topics I was going to speak about in some upcoming keynotes and workshops. I told him that time management seems to be a very hot topic. He mentioned that he sees lots of people having a cup of coffee while scrolling through social media on their phones. We talked about if someone used that time to actually post, wouldn't it seem like it didn't take as much time? He then said, "Coffee and a Post". (Have I told you yet, that I married a brilliant guy?!)
Now, to make your posts valuable content and simple to do while sipping your coffee, you have to know what to post ahead of time. That is where a simple social media content plan comes in handy. I truly believe that not having a plan is the biggest issue, but also finding a way to slip in the time to work the plan is the second largest issue.
Today I am introducing, Coffee and a Post™.
Each day when you have your morning beverage (whether it be coffee, tea, soda, juice, water, etc.), pause, then get your phone out and make your social media post. You CANnonDo it! This also works for later in the day, so consider doing, Wine and a Post™. It doesn't matter what the beverage is; what matters is that if you are pausing to check your phone during a brief break anytime during the day, you have time to maintain a consistent social media presence for your business. That presence may be posting new content, sharing content from peers, or responding to follower engagement (comments, likes, replies).
If you want help with a simple updating plan, reach out for a coaching session with Vicki.