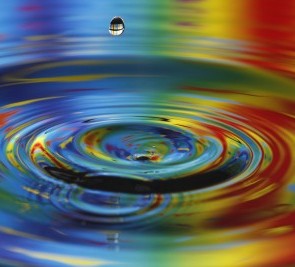 The Ripple Effects of Random Acts of Kindness
Dear Friends –
As I sat to write my blog post last Friday afternoon for this week, I couldn't find the words to say. I was riveted to the TV and all of the news going on in Newtown, Connecticut.  I am still so saddened that so many innocent lives were lost.  I hope and pray that there will be comfort and peace on some level at some time for these families and the community.
Today I debated about talking about what I have been feeling over the past few days especially with all of the media coverage, but decided that this is a good forum to extend, engage & explore with all of you how we feel now and how we can show up differently in the days, weeks, months & years to follow.
If you are like me, there are everyday stressors that I think are so very important and I give so much time and energy too.  The events of last week made me take pause and realize that whatever I may think is a stress or is important is in no way near what others who are dealing with loss and illness are managing every day.  It helped me gain perspective as to what I put importance on.  I realized that I need to be focusing on the good in my life and be able to be a beacon of love.  I started with what I am grateful for: my family, friends, health, home, shelter, food, business, etc.  Do I show my appreciation enough?  Do I take the time to be truly grateful for all that I have and am given? Do I take time to be present with the people in my life?  Sadly, I felt that I had become complacent. I felt like I had taken for granted all the love, life & light that surround me every day.
This week, I have taken time to look people in the eye and give them a sincere greeting with a warm smile.  It sounds very simple, but I hadn't realized how much I had not been using eye contact in a meaningful way.  You should pay attention to this over the next few days and see what you notice.  I have been greeted with some surprise and warm enthusiasm back.
A few questions to ponder:  Have we become so caught up in our electronic devices and busy lives that we forget to pay attention?  Have we forgotten to really connect with others?  I believe that the reason we all like social media so much is that we want to be connected to others.  Can we take a few minutes and really think about how we connect and why?  I love the social aspect of Facebook and the professional aspect of LinkedIn. I am learning both sides of this on Google+, but to what end?  The end for me is to gather meaningful people around me so that I may be of service to them.  I hear many times that people like my posts because I share humor (although sometimes quirky) and some meaningful things to think about.  I like to think that I am providing a service of news, warmth, love, humor & cheer.  In the end, I want to make a difference in the world.
This is a bit more melancholy for a post than I am usually writing, but as a country and world in mourning, I feel like what we all really want and need is a forum to express ourselves and to then rally around those in need.
I have seen a number of news stories about doing acts of kindness to show our support for each person that died in Newtown.  US NEWS has a story that talks about the hashtags #20Acts or #26Acts.  I like the idea of paying it forward to others, whether it is one random act or several.
What do you think?  Will you join in on this or find another meaningful way to express yourself?
In closing this week, I want to remind you all to be present; not only with the ones you love, but with the world around us.  What kind of difference can you make and ripple out into the world?  When you look at the image that I posted with this article, you can see how one little move (like one random act of kindness) can cause the ripple effect. We can all overcome tragedy and the evils of this world if we match it and beat it with kindness and love. Why not start with and do some random acts of kindness?
Holiday Blessings to all of you.  May God Bless Newtown, Connecticut.