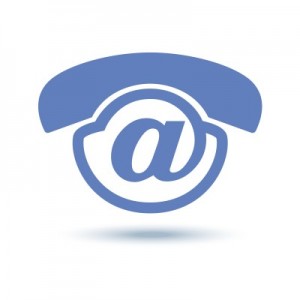 How do you feel about voicemail greetings?  Lately these have become a pet peeve of mine.  You know what I'm talking about – the message you receive when you call someone and their voicemail kicks in.  If you are running a business – don't you want to have everything that you do (the touches you make with your clients & prospects) come across as professional as possible?  Recently, I was sent to a voicemail that said this:  "at my earliest convenience I will call you back."  How do you feel about that? It makes me feel like:  "when/if I deem it important enough to call you back, I will."  I am assuming that what this person was really saying was: "as soon as I can, I'll call you back", but that wasn't how it came across.
Ok, how about the one that sounds like the person is distracted or recording the message from a tunnel or while driving? It sounds something like (background noise) and "um, you have um, reached, um, …." With lots of pauses and noise in between.  This also conveys a message about your professionalism and the message isn't favorable.
Here is my voicemail greeting:  "You have reached, Vicki S. Cannon of Cannon Social Media Solutions.   I am unable to take your call at this time, so please leave your name, phone number & a brief message after the tone and I'll get back to you as soon as possible.  You may also email me at: (insert email address) or contact me via my website: www.cannonsocialmedia.com.  Thank you for calling."
It only takes a few minutes to write something out and to record and re-record until the right message is given. This is still an extension of you and your business.  What kind of impression are you leaving? Does the impression match your business?
Physician offices are usually pretty good at leaving a detailed greeting that includes when you should expect a call back and the type of information you should leave on the message (for instance, date of birth).  I appreciate these greetings because I am not left in the dark about what they need and when I should hear back.
Have you recently started a business? Don't forget this important extension of your brand.  Many people are quick to start a Facebook Page and/or Twitter Account, but forget what may be an important piece of communication.  Starting with: "Hi, this is Vicki. Leave me a message." may not be professional enough.  Also, please smile when you record and have a little bit of energy. There is nothing worse than listening to Eeyore give you a greeting (even if you are a Winnie the Pooh fan).
One last thing, take the time to record your own message.  The pre-recorded: "you have reached the Mobile Carrier Mailbox for 555-555-5555…" is not good either.  It looks like you aren't keeping up with the little details.
You may be asking: "what does this have to do with social media"?  Well, I believe that everything you do in-person or online is an extension of your personal and professional identity.  You never know if this is the first real contact someone is making with you.  Do you want to put any doubt in the mind of a potential or even current client about your professionalism?   Take a moment and listen to your voicemail greeting. Is it the right message? How would you feel after hearing the greeting? If you aren't sure, ask someone else to listen to it. What is their impression?  The same is true with your Social Media sites. What kind of impression are you leaving every time you post? People are watching and listening all the time.
Ok, I'm off of my soapbox now.  Do you have any pet peeves on professionalism?